Tallahassee Urban Search and Rescue team assists in the aftermath of Hurricane Ian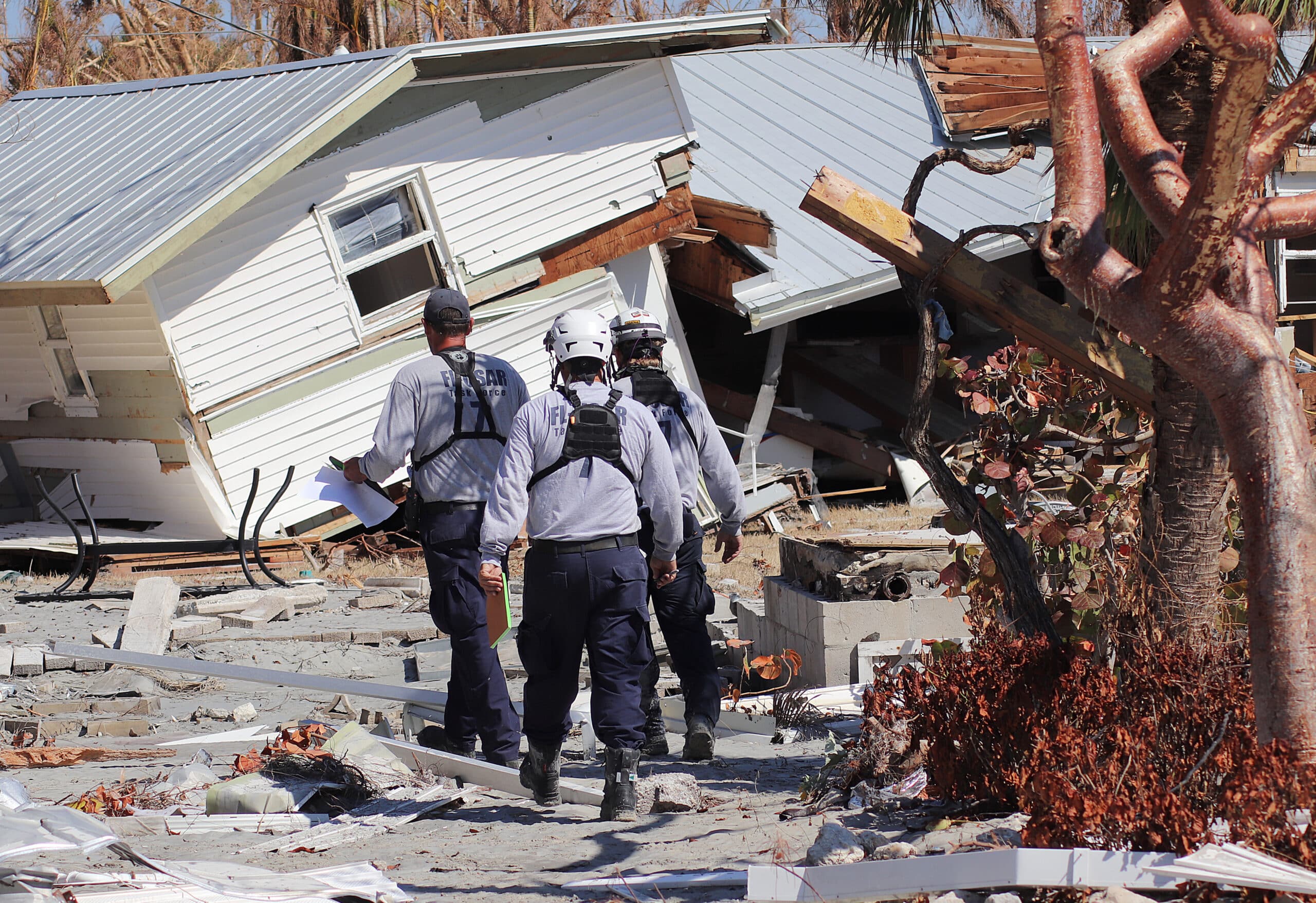 For a few days last week, members of the Tallahassee Task Force 7 Urban Search and Rescue (USAR) team spent time in Brooksville to 'decompress' after two weeks of physically and mentally stressful work following Hurricane Ian. They stayed at the Brooksville Senior Enrichment Center which had also served as a shelter when the hurricane was to hit our area. There they had showers; meals (which they didn't have to cook themselves), including great food provided by Florida Cracker Kitchen; and real beds for sleeping.
USAR teams are made up of firefighters and emergency personnel who, in addition to their regular training, receive special training for this important job that follows any type of disaster. Task Force 7 is made up of twenty to thirty men and women and practices extensively for these types of scenarios.
Right after Governor DeSantis declared a state of emergency, before Ian gained hurricane strength and made landfall, the team learned they had to come together.
"They started staging us in areas to protect us, but close to areas where we would be needed so they didn't waste time dispersing ourselves," said Luther McClellan, public information officer at the of the working group.
It was rough there the first few days waiting for the water to recede. The team made many boat rescues. They also had deep-sea military-style vehicles that are raised about three feet off the ground. The men and women were also transported by Chinook helicopters to areas, such as Sanibel Island, that were cut off from the mainland and their equipment was brought in on barges.
The eight task forces serving Florida are fully self-sustaining. They bring their own food, water and fuel for their vehicles. A generator provides electricity. Team members sleep in tents.
There were four problems they had to deal with – damage from high winds; flooding caused by the rains and storm surge which measured 15 feet; and the rivers that began to overflow a few days after the storm passed.
A particularly difficult situation was having to traverse six inches of silty mud wherever you went. Their boots are heavy to start with, then you have five to eight pounds of mud stuck to your boots, plus the gear you have to carry, it's physically taxing.
Then you have the emotional toll. For example, about a mile behind their camp there was a helicopter crash. For a moment, they weren't sure if any of their team members were in the helicopter. It turned out to be a private helicopter piloting a fire chief and his IT people. There were a few injuries, but no one was killed. However, it was "an emotional roller coaster," as Task Force 7 Squadron Leader Lt. Lee Rutledge commented.
"Everything is heartbreaking. You go there to help and you see that people have lost everything. Their whole life was swept away by this hurricane. You look and someone is crying and that adds an emotional factor to the situation," the 23-year-old veteran firefighter continued.
Rutledge has been part of the USAR team since 2005. They have been involved in three major events – Hurricane Michael in 2018, the Surfside condominium collapse in 2021, and Ian.
Captain Mike Bellamy has also been a firefighter for twenty-three years. He serves in the logistic support of the team.
"What struck me was the scale of the response, the number of search and rescue teams that were there. It was bigger than anything I had done before. It was the biggest search and rescue response after the 9/11 tragedy," he said.
Seven other task forces from across Florida responded to this natural disaster – two from the Miami area and one from Southwest Florida, Hillsborough County, Orlando, Ocala and Jacksonville. Units came from more than eight other states, including Indiana, Texas, Pennsylvania, New York, California, as well as Washington DC. More than a dozen emergency response units have been created with an incident command center set up in Orlando. Retired firefighters also intervened. Firefighters came from other areas to help the families of other firefighters set up their homes and do whatever it took to stay safe as these men and women were busy managing preparations for the coming hurricane. .
A tedious part of the job is going door to door checking every house and boat to make sure everyone is accounted for. Technology is a huge help in this process. The team uses iPads to mark each location and indicate if the people inside are safe, or have evacuated or need assistance. The map at the command center matches the map on their iPads and there's a blip on every spot that's been searched.
"We didn't leave until we hit every structure and every boat," Captain Bellamy said.
Many people ignored mandatory evacuation orders and suffered the consequences. Debbie Walker-Druzbick, director of the Brooksville Senior Enrichment Center, shared a personal story involving her husband's 83-year-old cousin.
"On Wednesday morning we got a phone call from him saying 'I think I should have left.' At first he said there was a few inches of water in the house. The next call we got he said the water was almost up to his sofa. We told him to take a ladder and go up to the attic. So he went up there with his two cats and stayed there for twenty hours with just bottled water to drink. He took a picture of the inside of the house and the washer and dryer were under water.
He was lucky that even though all of his windows and doors blew out, the roof remained intact.
Hurricane Ian was catastrophic and, like many hurricanes, unpredictable. The people who lived and experienced it will never be the same again. The hundreds of men and women, like those of Task Force 7, who risked their lives helping the aftermath are heroes in every sense of the word.
As Lieutenant Rutledge observed, "You have a lot of adrenaline, but it hits you when you come back to camp and think about everything that happened that day. It is an unforgettable and incomparable experience. Under the same circumstances, there isn't a guy here who wouldn't do it again.
Photos of the search and rescue team