New search and rescue helicopter deploys despite uncertain future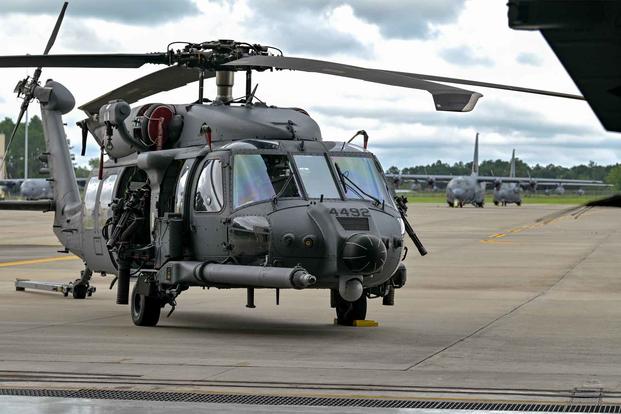 The Air Force's new HH-60W "Jolly Green II" helicopter is heading for its maiden deployment as Air Force leaders continue to debate how many planes it will purchase.
The deployment comes a month after it was used for its first-ever rescue mission to help an airman in Florida.
Details of the deployment undertaken by Airmen from the 347th Rescue Group from Moody Air Force Base, Georgia, were not shared by the service, but the base boasted of the "first-ever deployment." in a short Facebook post Wednesday.
Read more : Army's historic WWII training grounds named America's newest national monument
"AF Rescue's future is secure and our team stands ready to recover anyone, anytime, anywhere, against any adversary," said 23rd Wing Commander, the Colonel Russell Cook.
The HH-60W, built by Connecticut-based Lockheed Martin-Sikorsky, is the updated service replacement for the aging HH-60G Pave Hawk search and rescue helicopter, and its deployment is a notable achievement after having was first tested by the Air Forcer in 2019.
The Air Force originally planned to purchase 113 HH-60Ws, but reduced that number to 75 in its 2023 budget request, according to Breaking Defense. Air Force Secretary Frank Kendall told reporters at a March 25 roundtable that the withdrawal from the Middle East and the focus on adversaries such as China had changed some priorities. .
"The scenarios that worry us the most are not the same as before," Kendall told reporters during the briefing. "When we were doing counterinsurgency, and we were losing pilots in those kinds of situations, the needs were different. Acts of aggression like the ones we see in Europe or we might see in the Pacific, the challenge of stimulation, put us in a very different scenario from a combat rescue perspective."
Current HH-60G models from the 1980s fly low and feature a retractable in-flight refueling probe and internal auxiliary fuel tanks that allow better range on rescue missions.
The HH-60W doubles internal fuel capacity without auxiliary fuel tanks and increases flight time. It also has improved avionics, navigation, communications and an improved software network, as well as better defensive measures and armor plating, according to the company.
"This is an exciting day for Combat Rescue as we field a new platform and its enhanced capabilities," said Major General David Lyons, director of operations at Air Combat Command, said in a statement. "This statement is the culmination of years of hard work and vision.
The HH-60W's first real-time operation came just a month before it was deemed ready for deployments.
On Sept. 7, South Georgia Medical Center, just outside Moody Air Force Base, requested assistance transferring a patient to the Moffitt Magnolia Center in Tampa, Fla., at approximately 230 miles away, according to a news release from the base detailing the rescue.
Approximately 40 minutes after the call, the HH-60W took off from Moody Air Force Base and landed at a football field between South Georgia Medical Center and Valdosta State University softball field. . Pararescuemen quickly jumped into a field ambulance and drove to the hospital to pick up the patient – an airman from the base's 75th Fighter Squadron.
After retrieving the patient and "dodging bad weather the entire trip", the HH-60W crew landed at a football field in Tampa where the patient was loaded into another ambulance and taken to the Moffitt Magnolia Center, according to the press release.
— Thomas Novelly can be contacted at [email protected] Follow him on Twitter @TomNovelly.
Related: Air Force Begins Live-Fire Testing of New Helicopter, Jolly Green II
Show full article
© Copyright 2022 Military.com. All rights reserved. This material may not be published, broadcast, rewritten or redistributed.