Head of DND: Search for oil until the next administrator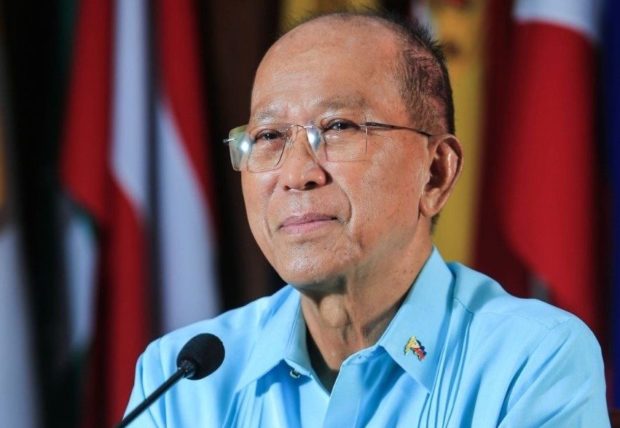 MANILA, Philippines — The fate of oil exploration activities in the Western Philippine Sea now rests with the next administration to be elected in elections on May 9.
Defense Secretary Delfin Lorenzana said Wednesday that the Philippine government was unlikely to reverse its decision to suspend such activities in the Duterte administration, which ends on June 30.
"I think we can no longer reverse this, give a go-ahead (to resume oil exploration) because even the president agreed with us to suspend it," he said.
Exploration for oil, particularly in areas off Palawan, was allowed to resume in October 2020 after President Duterte lifted a six-year moratorium imposed by his predecessor Benigno Aquino III due to rising tensions. with China.
However, the Department of Energy (DOE) again suspended these activities on April 6 pending approval from the Cabinet's Security, Justice, and Peace Coordination Group (SJPCC) due to "the implications political, diplomatic and national security of any activity". in the Western Philippine Sea.
Lorenzana, who chairs the SJPCC, said the government's decision to suspend exploration in the disputed waters remains due to concerns over a possible conflict with China.
"We discussed it with the SJPCC and we think we're going to have some problems there, an objection from the Chinese because it's one-sided…. and there was this agreement that was signed between the Philippines and China before on joint exploration," Lorenzana said on the sidelines of the Asia Defense and Security Expo at the World Trade Center in Pasay City.
"We are just avoiding a possible conflict in the Western Philippine Sea," he added.
It was the president who said last month that the country had no choice but to stick to a supposed joint exploration agreement with Beijing to avoid a conflict.
Speculative game
The president also asked why PXP Energy Corp. and its subsidiary Forum Energy Ltd. had to do the seismic surveys, which will give an idea of ​​energy resources under water, only now that the moratorium was lifted in 2020, according to Lorenzana. .
Both companies were contracted by the government to carry out exploration activities for service contracts 75 and 72.
"Why only now? Maybe we can't set it up now. The president said we will leave it to the next administration to manage the joint exploration," he said.
This now means a longer wait for investors speculating on rich energy discoveries in the Western Philippine Sea and the stock market has already priced in those delays.
Listed companies such as PXP Energy led by Manuel V. Pangilinan and Atok-Big Wedge Co. Inc. have lost massive stock price gains since President Duterte lifted the moratorium in 2020.
PXP is down 67% while Atok, a company run by billionaire Roberto Ongpin and Davao-based tycoon Dennis A. Uy, is down 68% from its recent December 2020 highs.
Luis Gerardo Limlingan, managing director of Regina Capital Development, said investors would "wait and see" until the May 9 election results.
He said they would also be on the lookout for the next president's stance on oil exploration, as some candidates are seen as more favorable to Beijing despite its forays into the Western Philippine Sea.
Atok's subsidiary, Tidemark Holdings Ltd., owns 20% of the British company Forum Energy, which has a 70% stake in service contract 72 located west of the island of Palawan. It is home to the Sampaguita offshore gas discovery.
PXP owns 79% of Forum Energy in addition to interests in other oil exploration services contracts in the Philippines and an oil block in Peru.
Fuel depot
Meanwhile, the Philippine government will construct a fuel depot on the island of Pag-asa (Thitu) in the Western Philippine Sea.
National Security Advisor and Chairman of the Western Philippines National Sea Task Force Hermogenes Esperon Jr. led the inauguration of the fuel storage facility last Monday.
Pag-asa, the largest and most strategically important Philippine outpost in the Kalayaan group of islands, lies 400 kilometers from the mainland province of Palawan.
The Armed Forces of the Philippines earlier announced plans to set up a logistics hub on the island to effectively support their patrols.
Esperon told the Inquirer on Tuesday that he also visited the Pag-asa Island research station manned by members of the University of the Philippines Institute of Marine Science as part of his visit.
The station, which opened last October, aims to boost scientific research and strengthen Philippine sovereignty in the region.
Esperon, who was joined by officials from Western Command and his staff, took the opportunity to speak to fishermen living on the island.
"We are putting in place a support system for Filipino fishermen," he said without giving further details.
Filipino fishermen in Pag-asa, the only Philippine-occupied element in the Kalayaan Islands with civilian inhabitants, have lamented harassment by the Chinese Coast Guard and the presence of Chinese maritime militias in recent years.
RELATED STORIES
Oil exploration ban lifted on WPS an exercise of PH's sovereign rights – Cusi
Duterte lifts moratorium on offshore oil exploration in Western Philippines
WPS's joint oil exploration plan with China is a raw deal – De Lima
Read more
To subscribe to MORE APPLICANT to access The Philippine Daily Inquirer and over 70 titles, share up to 5 gadgets, listen to news, download as early as 4am and share articles on social media. Call 896 6000.