Better multitasking, performance, faster search for Windows 11 coming with Sun Valley 2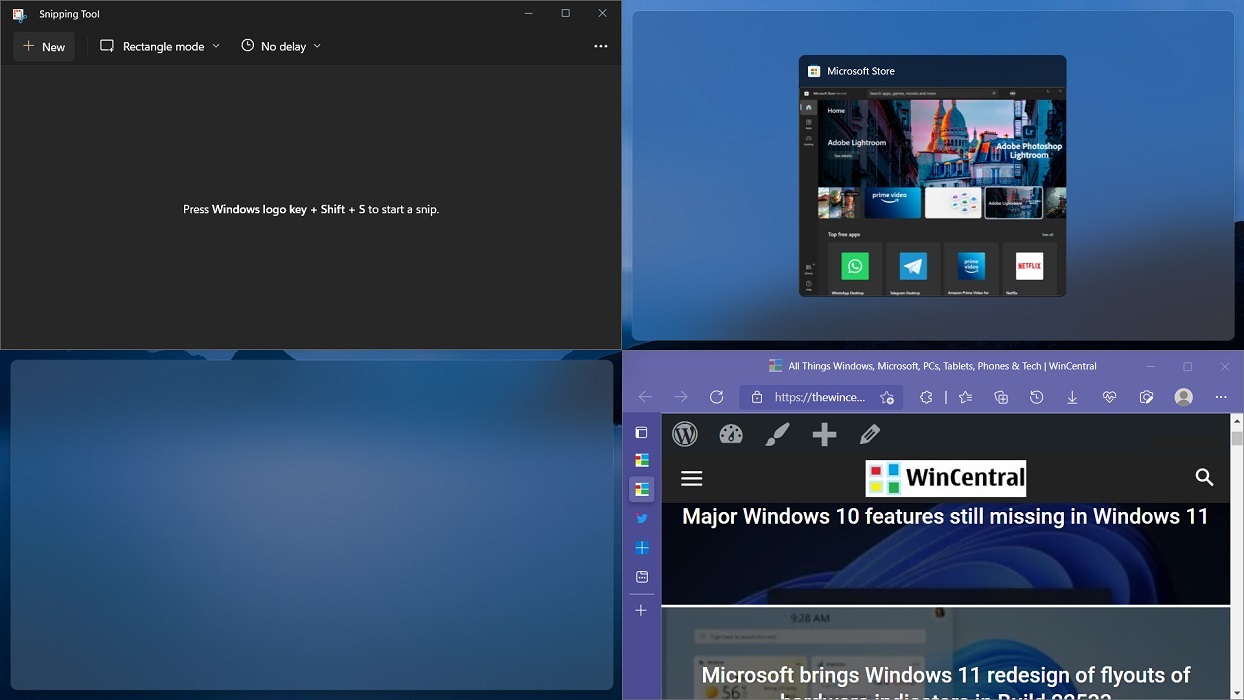 Microsoft is focused on speeding up the Windows 11 user experience with its new update. Not only the overall performance including search performance can be improved, but the multitasking experience can also experience great improvements.
Performance:
Windows 11 performance may see plenty of improvements, including optimizations for windowed games that improve latency and unlock other gaming features including auto HDR and variable refresh rate (VRR). New task manager feature Efficiency mode is useful for controlling resource-intensive applications. The dynamic refresh rate experience has been improved so that when you move the slider, the system now jumps to the maximum refresh rate, making your PC more responsive.
This release introduces a feature called Optimizations for Windowed Games and is designed to dramatically improve latency and unlock other exciting gaming features including Auto HDR and Variable Refresh Rate (VRR). Latency improvements can benefit all gamers, whether it's improving your input lag or creating a competitive edge in your gaming experience. System > Display > Graphics > Change Default Graphics Settings to activate the feature. Note that this feature may already be enabled by default and is also required to use other graphics features such as Auto HDR. To find out more, see https://aka.ms/WindowedGameOptimizations.

Redesigned task manager and efficiency mode

We've updated the design of Task Manager to match the new design principles of Windows 11. This includes a new hamburger-style navigation bar and a new settings page. A new command bar on each page provides access to common actions. We're also excited to bring a dark theme to Task Manager and will automatically match the system-wide theme configured in the Settings app.

The updated Task Manager design in dark theme.

Last Aprilwe tested a new feature called "Eco Mode" in Task Manager and we will reintroduce it with a new brand name: Efficiency mode. This feature is useful when you notice that an app is consuming a lot of resources and you want to limit its consumption so that the system prioritizes other apps, which will lead to faster foreground responsiveness and better power efficiency.

New icons for Suspend and Efficiency mode as they appear in Task Manager.

You can apply Efficiency mode by clicking on the Process page command bar or by right-clicking the process. You can only apply Efficiency mode to a single process and not to the entire group process. If the option is greyed out, it usually means that it is a basic Windows process and throttling it can affect system performance. The efficiency mode process will be marked with a new leaf icon, and we are also introducing a new pause icon for Suspended process to indicate that the process is in suspended mode.

It's now easier to move your cursor and windows between monitors, letting your cursor jump over areas where it would previously get stuck. This behavior is controlled in the settings with System > Display > Multiple displays > Ease cursor movement between displays.
We extend dynamic refresh rate (DRR) experiences on laptops with 120Hz displays beyond smooth scrolling in Office and low-latency inking. When you move the slider, the system will now switch to 120Hz, making your PC more responsive. Touch and pen interactions blend into smooth animations in the Windows UI and app UI. Smooth scrolling is now supported not only in Office, but also in Microsoft Edge Canary and Windows UI like the Settings app. To enable smooth scrolling on Edge Canary, you must enter the following in the address bar of a new tab: "edge://flags/#edge-refresh-rate-boost-on-scroll", set the highlighted indicator to "Enabled". ' then restart Edge.
To research:
Windows 11's overall search experience will see improvements. This will speed up finding apps and settings in the Windows search box. The search in settings will also become better with better results.
Searching for apps and settings in the Windows taskbar search box is now even faster and more accurate than before. Try searching for your favorite app or a setting you use frequently for faster results. We also fixed an issue that prevented Windows users from finding an app within the first few seconds of installing it.
We've done work to generally improve results when searching within parameters, including more relevant results and now have some flexibility to return results in the event that search terms have common typos.
Multitasking:
The multitasking experience on Windows 11 can also see a big jump with improved Snap layouts. The new Snap Layout experience improves multitasking on touch devices and mice. Snap animations have been updated to make transitions smoother.
Improved Snap layouts

We've added a new way to align windows in Instant Layouts that works great with touch and mouse! To try it out, simply drag a window to the top of the screen to reveal the snapping layouts, drop the window over an area to align it, and use the snapping helper to complete the snap. building your layout.

Simply drag a window to the top of the screen to display the snapping layouts, drop the window over an area to align it, and use the snapping helper to finish creating your layout.

On top of all that, we've also improved the capture assistant to seamlessly animate between areas of a layout for a delightful end-to-end capture experience.

We've made some small changes to the Snap options under System > Multitasking to simplify them and make them easier to understand.
We've updated the visuals of instant groups to include the desktop wallpaper to make it easier to differentiate your groups from normal windows. This will show up when using ALT+TAB, task view, and in taskbar previews. Additionally, ALT+TAB will now show as a window for all Insiders running build 22554 and later.

ALT+TAB showing updated visuals for snap groups.

We're updating the transition animation that shows going from one captured window state to another. Capture a few windows using the capture wizard, move windows from one configuration to another, and watch the smooth transition with our new animations.

Updated transition animation that shows going from one captured window state to another.

Rotating your device between portrait and landscape orientation is faster and more responsive.

We've made rotating your device between portrait and landscape more responsive.
Sun Valley 2 update, also known as version 22H2 update, is the annual major update for Windows 11 in 2022. The update is supposed to bring lots of new features and user interface changes .
The Windows 11 update slated for release this year will be version 22H2. According to a new report, this update will bring back much-desired and currently missing taskbar functionality. It can also bring system-wide dark mode and many other new features and UI changes.
The Windows 11 version 22H2 update is referred to as the Sun Valley 2 update internally. It can follow Windows 11 21H2 release date schedule. Learn more about new features and release date of Windows 11 version 22H2 by clicking here.